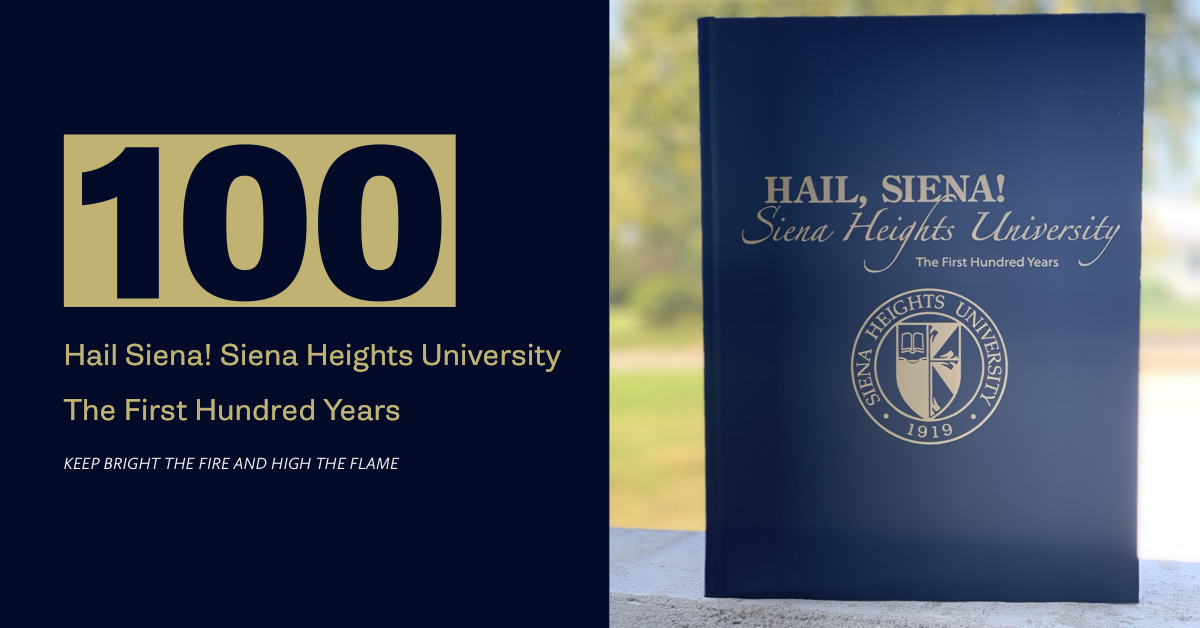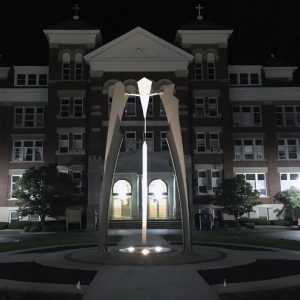 Keep Bright The Fire And High The Flame
Those words have been sung for about eight decades, ever since the twenty-year-old St. Joseph's College became Siena Heights College. As Siena Heights University celebrates its 100thanniversary, the words have been made tangible by the new centennial mall fronting Sacred Heart Hall, the first and oldest building on campus.
Midway between the long-standing "Veritas" flagpole and the front steps of the university's most iconic architecture stands the new "Centennial Arch," a soaring emblem of the search for truth.  The arch stands on three legs, recalling the watchwords of the Siena Heights mission: competent, purposeful, ethical; cradled atop the legs is the metaphorical flame of learning. The arch rests on a circular foundation that calls out the pillars of Dominican life: prayer, study, community, preaching. Ten apple trees—signifying ten decades—line the mall walkway, recalling the orchards that once flourished here and the vision of Mother Camilla Madden, who planted the seeds of today's university.
For a century, guided by its mission and emboldened by the Adrian Dominican Sisters, Siena Heights has nurtured the search for truth.  The story of those first hundred years encompasses dramatically changing times, evolving student needs, and astonishing new ideas about education. Hail, Siena! brings the voices, drama, humor, and complexity of that story to life.